Audi R15 TDI shows strong performance in "farewell" race
21/03/11
The Audi R15 TDI was on par with the new LMP1 sports cars from Peugeot and Acura/Honda in its last ever race. But Audi Sport Team Joest missed racing luck in the season opener of the Intercontinental Le Mans Cup (ILMC) at Sebring (U.S. state of Florida).
oth cars were delayed by incidents in the first half of the 12-hour race. The hopes of Timo Bernhard, Romain Dumas and Mike Rockenfeller were destroyed after one hour of racing, when Rockenfeller had to pit twice in a row with a rear left puncture. Both times there was also bodywork and rear wing damage. The repairs cost a total of eight laps and dropped the reigning Le Mans winners down to 50th position.

Dindo Capello, Tom Kristensen and Allan McNish were able to take the lead several times with the "sister" car. At the beginning of the fifth hour, however, Capello, running in second position, became the victim of an attack by Peugeot driver Marc Gene who hit Capello hard on the right rear wheel. As a result of the collision, the right rear suspension of the Audi R15 TDI had to be replaced. The Italian rejoined the race in 17th position, seven laps down.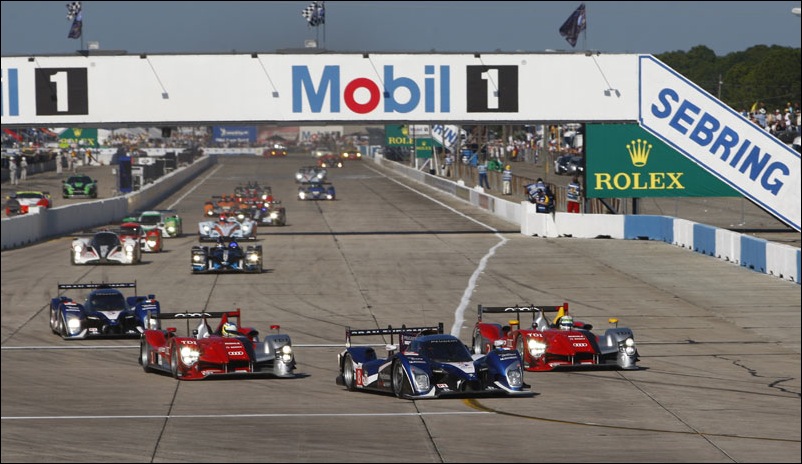 In the remaining hours, the two Audi teams were able to move up into fourth and fifth positions respectively with consistently good lap times. However, Audi Sport Team Joest was denied the hoped-for victory in the "farewell" race for the Audi R15 TDI despite both cars having the performance to achieve it.

In March 2009, the Audi R15 TDI won the Sebring 12 Hours on its race debut. The greatest triumph came last year with a 1-2-3 victory and a new distance record in the Le Mans 24 Hours. In total, the Audi R15 TDI competed in ten races from 2009 to 2011. It scored three victories, twelve podium results, one pole position and two fastest race laps. A total of ten chassis (100-105 and 201-204) have been built.

After its "farewell" appearance at Sebring, the record winning car of the Le Mans 24 Hours will now finally be moved to the museum. Audi Sport Team Joest from now on will entirely focus on the new closed Audi R18 with its race debut scheduled for the second round of the Intercontinental Le Mans Cup on May 7 at Spa-Francorchamps (Belgium).


Quotes after the race
Dr. Wolfgang Ullrich
(Head of Audi Motorsport): "Today we had the performance to get on the highest spot of podium. But unfortunately we had problems with both cars we could not really influence. The team afterwards simply tried to make the best of it. After the problems, which were not our fault, both cars recorded consistently good lap times. The R15 TDI would have certainly deserved a better conclusion. And that today would have been possible. Now we have to look forward."


Dindo Capello
(Audi R15 TDI #2): "The incident with Gene destroyed the race for the #2 Audi and affected me mentally in my last stint. The car was capable of going faster, Tom (Kristensen) and Allan (McNish) showed that. Watching the television replays of the incident afterwards, it is clear I was not responsible for the accident – and only this makes me feel a little more relaxed. To have our race effectively ended before mid-distance was frustrating."

Results


1 Lapierre/Duval/Panis (Peugeot) 332 laps in 12h 00m 28.423s
2 Brabham/Franchitti/Pagenaud (Acura/Honda) + 31.868s
3 Montagny/Sarrazin/Lamy (Peugeot) + 44.502s
4
Capello
/Kristensen/McNish (Audi R15 TDI) - 5 laps
5 Bernhard/Dumas/Rockenfeller (Audi R15 TDI) - 6 laps
6 Dyson/Smith/Cochran (Lola-Mazda) - 8 laps
7 Prost/Jani/Bleekemolen (Lola-Toyota) - 12 laps
8 Wurz/Gené/Davidson (Peugeot) - 17 laps
9 Petersen/Cameron/Guasch (Oreca) - 20 laps
10 Priaulx/Müller/Hand (BMW) - 20 lap