Successful test for the Audi R18 at Sebring
03/02/11
Four and a half months before the Le Mans 24 Hours, preparations for the endurance classic are in full swing at Audi. Two new Audi R18 cars and one Audi R15 TDI were used in tests at Sebring (U.S. state of Florida).
The program planned for the tradition-steeped American circuit specified endurance runs for one of the completely re-developed LMP1 sports cars while the second Audi R18 was primarily used for development work. The Audi R15 "plus plus" that will be fielded at the 12-hour race at Sebring – the season opener of the Intercontinental Le Mans Cup (ILMC) – completed a long run as well. In addition, the basic setup for the race in March was worked out on the vehicle.

During the tests, which ended on Saturday, the nine Audi "factory" drivers took turns at the wheel so that all of them had the opportunity to drive each of the three sports cars.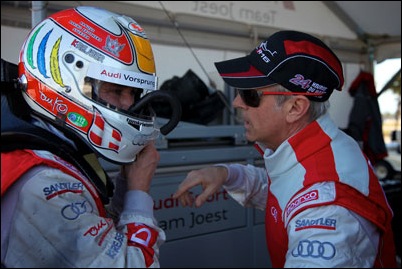 "We're very pleased with the performance of the Audi R18 at our first outing at Sebring," said Head of Audi Motorsport Dr. Wolfgang Ullrich. "We opted for this race track because it makes high demands on the mechanical systems of our vehicles. The temperatures are better than in Europe right now, plus the dry weather provides us with assurance that we're able to conduct the endurance runs as planned. On a wet track the loads would be lower and the test results therefore less conclusive."