Third place for Capello-McNish-Kristensen at Spa
10/05/10
As expected the weather played a decisive role during the Le Mans dress rehearsal at Spa-Francorchamps (Belgium). Rain just before the end of the race cost Audi drivers Dindo Capello, Tom Kristensen and Allan McNish any chance of victory.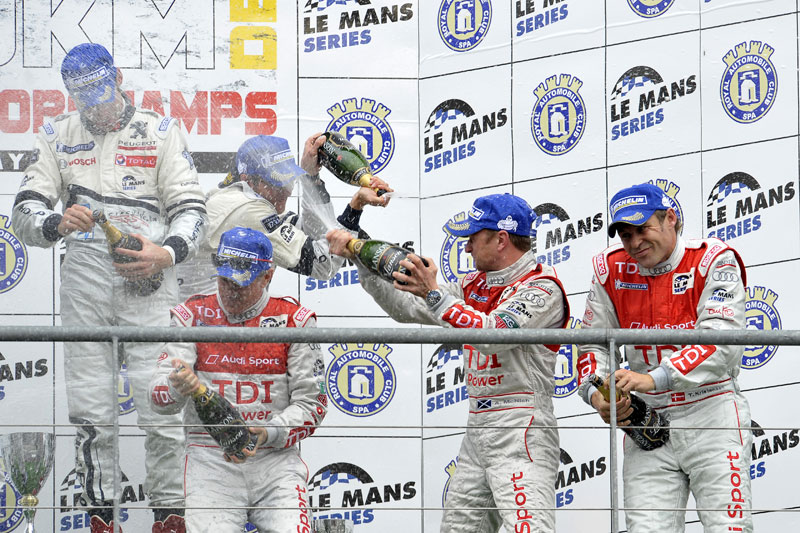 During the turbulent 1000 kilometer race, which had to be suspended for almost 40 minutes due to a power cut, a rain shower during the opening stages guaranteed extremely difficult conditions. During the formation lap André Lotterer spun off the slippery circuit. The necessary repairs threw Lotterer, Marcel Fässler and Benoît Treluyer hopelessly back down the running order.

Due to the fact that the three Audi R15 TDI cars started at Spa-Francorchamps in full Le Mans trim and therefore with very little downforce, Allan McNish and Timo Bernhard also struggled to keep their car on the cold and damp circuit during the opening stages.

In dry conditions the Audi drivers could make up lost ground. Thanks to excellent strategy and consistently fast lap times Dindo Capello, Tom Kristensen and Allan McNish even led the race for many laps in the Audi R15 TDI with start number 7.

Timo Bernhard, Romain Dumas and Mike Rockenfeller also fought among the leaders. However, they lost time twice behind the safety car and any chance of a podium finish after having to queue at the pit exit for two minutes after the lights had incorrectly been switched to red for too long.

As a result, Audi Sport Team Joest's hopes rested on Dindo Capello, Tom Kristensen and Allan McNish who had already completed their final refueling stop during a caution period and ran second within striking distance of the leading Peugeot 908. The decision to switch to intermediates as it started to rain 20 minutes before the end of the race did not, however, pay off. Because the track dried out again Kristensen had to give best to the slick shod Peugeot of Stéphane Sarrazin and settle for third place.

Timo Bernhard, Romain Dumas and Mike Rockenfeller took the checker flag in fifth place. Marcel Fässler, André Lotterer und Benoît Treluyer worked thier way from 47th position to twelve following the unfortunate incident on the warm-up lap.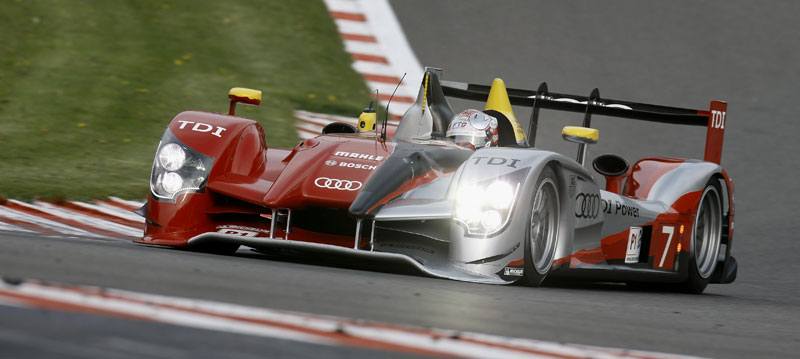 Quotes after the race
Dr. Wolfgang Ullrich
(Head of Audi Motorsport): "The result is a little disappointing since we were still in a position to win the race 20 minutes before the finish. Due to the information we had we decided to change to intermediate tires as it started to rain harder – for safety reasons, but also because we had made the correct decision at this moment in time with the weather forecast we had. Unfortunately it immediately stopped raining, and then we knew that the decision was false. Nevertheless, the race was very good for the team. We were faced with many difficult decisions throughout the race. It was good that the team could gel here for Le Mans. With an eye on Le Mans we drove with very little downforce and were nevertheless competitive. We'll certainly be able to make use of all the information we gathered at the 24-hours in June."


Dindo Capello
(Audi R15 TDI #7): "Our problem was the weather, which made our race quite difficult. Because we drove with so little downforce the car was extremely difficult to drive on slicks in the rain, which is why we had to switch to intermediates at the end. We had no other choice. If it had continued to rain we would certainly have finished second. In general our car was really good in Le Mans trim. We were faster on the straights, could fight with the Peugeots and even spent some time leading. We only lost time in the medium speed corners."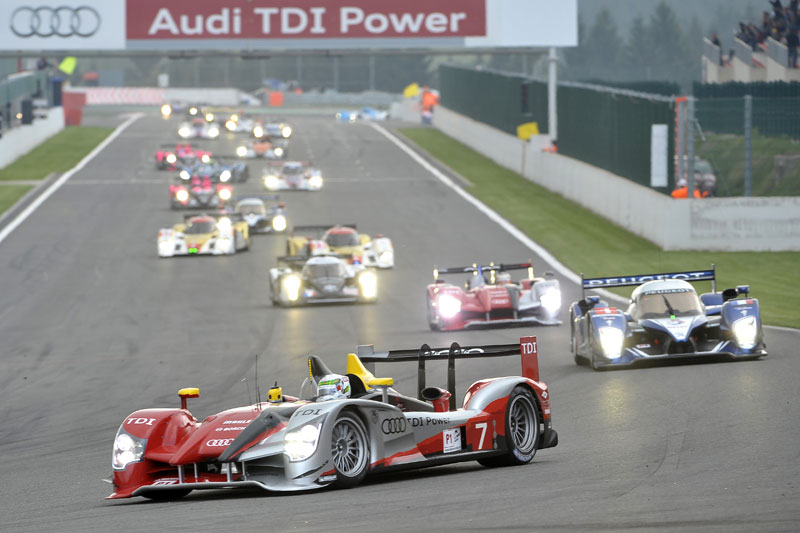 Race results


1 Lamy/Bourdais/Pagenaud (Peugeot) 139 laps in 6h 00m 39.012s
2 Montagny/Sarrazin/Minassian (Peugeot) + 1m 08.308s
3
Capello
/Kristensen/McNish (Audi R15 TDI) + 1m 26.215s
4 Gené/Wurz/Davidson (Peugeot) - 1 lap
5 Bernhard/Dumas/Rockenfeller (Audi R15 TDI) - 2 laps
6 Amaral/Pla (Ginetta-Zytek) - 9 laps
7 Erdos/Netwon/Wallace (Lola-HPD) - 9 laps
8 Moreau/Hein (Pescarolo-Judd) - 10 laps
9 Lahaye/Nicolet (Pescarolo-Judd) - 11 laps
10 Geri/Piccini/Piccini (Lola-Judd) - 11 laps