Successful dress rehearsal for Audi R18 TDI at Le Mans
25/04/11
The Audi R18 TDI had a successful first public appearance at Le Mans. 24,987 enthusiastic fans witnessed how Audi Sport Team Joest prepared for the 24 Hour race (on June 11/12) on Easter Sunday with all three cars and drivers. The innovative sports car with its ultra lightweight technology set the two fastest times at the end of the test day which is back now.
Whilst it's traditionally not about lap times on test day, much more significant findings matter for Audi after eight hours. The innovative diesel-powered sportscar was prepared very well for the demanding Le Mans track, all scheduled programs have been completed and the ten drivers adapted perfectly to the demanding circuit. Apart from the nine race drivers, test and reserve driver Marco Bonanomi was also behind the wheel and drove at Le Mans for the first time.

Despite Audi focussing on set-up work, Tom Kristensen set the fastest time of the day in car number 3. The eight-time Le Mans winner lapped the Sarthe circuit in 3m 27.687s. Last year's winner Mike Rockenfeller only needed 0.128 more seconds in car number 1 for the 13.629 kilometers. Neither a rain shower in the morning nor a spin of the number 2 Audi R18 TDI hampered the progress. The work with tire partner Michelin was especially positive. Tom Kristensen, Allan McNish and Dindo Capello generated valuable data. Apart from setting up the car, all drivers had a common goal: for the first time since 1999, Audi contests the Le Mans race with a closed car. For the drivers it was also important to get to know the vision from the cockpit, to drive in realistic traffic and to practice driver changes in the pits.

On Easter Sunday, not only the upcoming Le Mans 24 Hour race was in the minds of Audi Sport Team Joest's team members. Each of the three Audi R18 TDI cars carried two stickers on the rear wing that were styled according to Michele Alboreto's helmet. They were in memory of the former Audi works driver who died on April 25 ten years ago.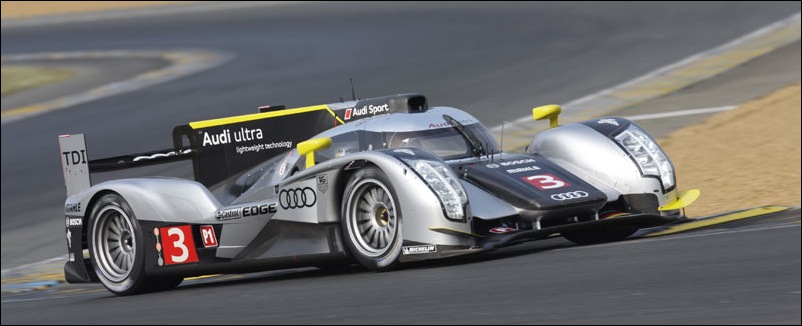 Quotes after the test day
Dr. Wolfgang Ullrich
(Head of Audi Motorsport): "We have prepared a comprehensive test program for all three cars. The weather conditions allowed us to complete all our schedules. We have achieved very good results. I think that we can put that to very good use in the Le Mans race. It was important to do a lot of kilometers here with the all-new car before the race weekend in June comes up."


Dindo Capello
(Audi R18 TDI #3): "We have worked very well for eight hours without a single problem. We have completed every aspect of our plan. We have learned many small things which will help us again in the next test. This was really very, very positive. I'm also eagerly awaiting the analysis of all data. Of course, there is always one aspect or another that can still be improved."


Results


1
Capello
/Kristensen/McNish/Bonanomi (Audi R18 TDI) 3m 27.687s
2 Bernhard/Dumas/Rockenfeller (Audi R18 TDI) 3m 27.815s
3 Sarrazin/Davidson/Montagny (Peugeot) 3m 27.876s
4 Fässler/Lotterer/Tréluyer/Bonanomi (Audi R18 TDI) 3m 27.878s
5 Wurz/Bourdais/Vernay/Davidson (Peugeot) 3m 28.304s
6 Lapierre/Duval/Panis (Peugeot) 3m31.141s
7 Minassian/Gené/Lamy/Pagenaud/Vernay (Peugeot) 3m 32.549s
8 Collard/Tinseau/Jousse (Pescarolo-Judd) 3m 36.583s
9 Jani/Prost/Bleekemolen (Lola-Toyota) 3m 37.809s
10 Belicchi/Boullion/Smith (Lola-Toyota) 3m 38.716s